Ingredients
3 large baking potatoes
2 eggs
1 pound smoked sturgeon, sliced and torn into bits
4 tablespoons melted butter, unsalted
1/2 cup minced chives
1/4 cup chopped parsley (flat leaf)
Black pepper
1 cup Japanese bread crumbs (panko)
Canola oil, for frying
Garnish: (optional)
1 cup sour cream
1/4 cup minced chives
1 tablespoon dried sumakh
Sevruga caviar
Direc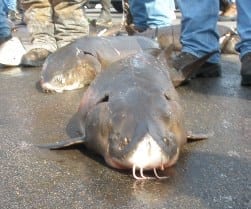 tions
Preheat oven to 400 degrees F.
Bake the potatoes until tender, about 40 minutes. Let cool, then scoop out the flesh. Pass through a sieve or ricer. Mix with the eggs, fish, butter, chives, parsley, and pepper. Shape into small patties and dredge in the bread crumbs. Fry the sturgeon cakes in batches, 3 minutes on each side, until browned. They may be held in a 300 degree F oven.
For the Garnish: Mix the sour cream and chives together. Serve a dollop on the side of the fish cakes, sprinkled with sumakh and topped with sevruga.
Prep Time 20 min
Cook Time: 1 hr 10 min
Serves: 12 to 16 servings
Source: foodnetwork.com