1 1/2 cups pistachios, coarsely chopped
1/1/2 cup bread crumbs
1/2 tsp salt
1/4 tsp black pepper
1 cup flour
2 eggs lightly beaten
2 tbsps milk
4 skinless 6 ounce fillets
4 tbsp butter
4 tbsp oil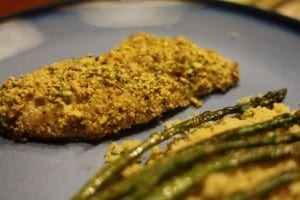 Combine pistachios, bread crumbs, salt, and pepper. Place on a sheet wax paper. Pour flour on another sheet of wax paper. In bowl, whisk together eggs and milk. Dry walleye fillets. Dredge in flour, dip in egg mixture and coat with pistachio and bread crumb mixture. In large skillet, melt 2 tblsps. Butter with 2 tblsps oil. Add 2 fillets and sauté over medium heat until golden brown on both sides. Transfer to platter and repeat with the other 2 fillets.
Serve with Artichoke tartar sauce:
1 cup pureed canned artichokes
3 tablespoons minced onion
1 cup mayo
cayenne pepper to taste
blend together and chill for one hour.
Source: Walleye central