Pre-heat oven to 350 degrees.  Rinse walleye filets and dry well to remove all water.  Oil pizza pan with olive oil. Place filets on pan, slightly overlapping the filets to form a base.  Sprinkle 0.7 oz dry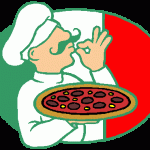 Good Seasons Italian dressing mix on top & any other spices you prefer.
Thinly spread tomato sauce or paste over filets. Sprinkle ½ to ¾ of the shredded Mozzarella cheese over top; then sprinkle on a light coating of Parmesan cheese. Add thin layer of personal choice of pizza toppings.  Sprinkle remaining Mozzarella cheese over top. Bake for 20-30 minutes or until cheese is melted/browned.
Submitted by Roy Vivian, professional walleye angler, via www.myfishingpartner.com