A highly variable weather pattern has typified the past several weeks in the Lake Winnbago region.  The inconsistent weather featuring hot weather, rain and unseasonably cold weather showed Mother Nature's fickleness.
Water temps have plummeted on Lake Winnebago and other systems waters.  Fond du Lac was registering in at 67 degrees, Oshkosh at 67 degrees, Neenah at 65 degrees, Lake Poygan at 69 degrees and the Wolf River chiming in at 64 degrees.  At one point 10 days ago, the system had water temps about 77 degrees.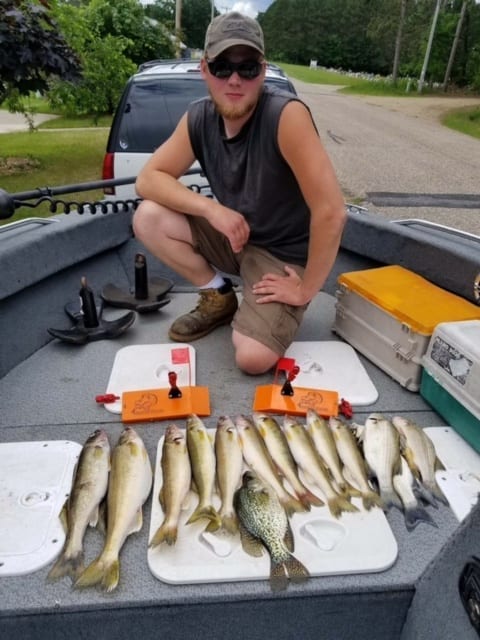 Water levels on the Wolf River remain high, and past flood stage.  Emergency no wake areas are posted on the river because of the high water.  The high water has held some walleyes in the area for an extended period this season.
On Lake Winnebago, winds have been common.  This has broken up the emerging algae bloom and the waves have mixed the algae into the water column.  On calm days, the algae can emerge on the surface creating algae slicks in some areas.  Water clarity remains variable, based on wind speed and direction.  Weed growth is near normal at this point, and has had a solid recovery from a slow start to the season.
Walleyes remain present and fairly easy to catch on most common community reefs, such as the Third reef, Long Point, Garlic Island and Stevens Reef.  Live bait presentations have been much more productive than artificial presentations.  Slip bobbers, rigs with baits or pitched jigs are excellent tactics.  The reef walleyes have average size, typically between 13-16 inches.
In the transition zones, especially in 10-15 foot ranges, perch have been common and are being targeted heavily, especially on the western shore.  Look for rock to mud zones, and target these fish with small worm pieces, red words or waxies.  Limits remain rare, but solid baskets are common.  Orange has been a productive color for jig heads or attractants.
The mud bite continues to be tough, as larger feeding walleyes are not easily found on Lake Winnebago.  The trolling bite – deep or shallow – overall is a grind.  The best location has been the northeast shore where some mid-size walleyes have been found on trolling harnesses with crawlers.  Walleyes can be found anywhere in the mud, but fish seem to be singles rather than schools.
With the winds, harnesses typically will out produce cranks.  For the hardcore crank fisherman, I have nothing to pass along.  Cover ground, change colors, change speed, and change lure shape until you find the pattern.  Patterns have not held very long, and some days never emerge.
The recent Lake Winnebago walleye tournaments have produced limited results.  Most events require between 12-13 pounds to be at the top of the leader boards.  In layman's terms, (5) 17 inch walleyes would bring home a significant payday.  Nearly every tournament has encounter high winds and bad weather.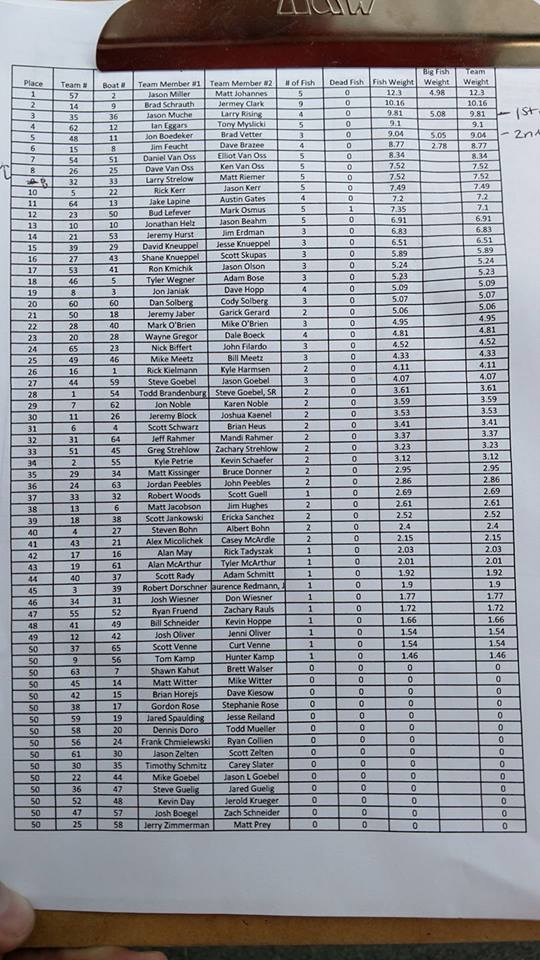 On Sunday, Bago Walleye Club held event number 3 out of Menomonie Park in Oshkosh   The winning weight came in just over 12 pounds.  Only two fish over 5 pounds were registered.  A total basket just over 5 pounds landed you in the top 20.  Similar results were registered with the Sheboygan Walleye Club held on the same day.
Lake Poygan has been yielding better results, especially on mid depth trolling bites.  Walleyes, slightly larger than their Winnebago counterparts, have been common.  Smaller crankbaits in chrome were the best attractant trolled at 1.7-2.0 mph's.  Look for depth of 25 feet back, behind the Off Shore trolling boards.
Sheephead have been a nuisance everywhere.  Catfish are active in the rivers, both the Fox and the Wolf.  White bass are common in deeper water and on Lake Poygan.  Largemouth bass are present in the weed beds.  Crappies are hanging in the 12-15 foot ranges.  Bluegills were being caught near traditional spawning areas.
This week is the kick off of the Fourth of July "weekend."  Plenty of recreational boaters can be expected, along with very full boat launches.  Maybe not the ideal situation for hardcore anglers, so take your sense of humor for novice fishermen, boat launchers, and the occasional runaway dog at the launch.
Have a safe 4th of July holiday.  Spend some time on the water, even if it is just a boat ride.  Maybe, check out Fond du Lac's fireworks from your boat! Hope to see you out there.  mark@myfishingpartner.com is my email.  Leave a few fish for me!
Facebook:  https://www.facebook.com/myfishingpartner/
YouTube:  https://www.youtube.com/channel/UCda5_YvomIwQLzTBXJxEzaw?view_as=subscriber
Pinterest: https://www.pinterest.com/markschram33/
Instagram:  https://www.instagram.com/myfishingpartner/?hl=en and https://www.instagram.com/my_fishing_partner/?hl=en
Walleye Nets:  www.Walleyenets.com
Twitter: @fishingpartner