By Mark Schram, www.myfishingpartner.com
A variable weather pattern engulfed the Lake Winnebago region in Northeast Wisconsin.  Multiple storm fronts moved thru the area bringing rain, wind and even a sunny day over the past week.  Air temperatures were near normal.
On Lake Winnebago, the water has become very clear throughout the lake.  On Friday, the clarity went from four feet in the morning to nearly eight feet in the evening.  The gin clear water was very detrimental to shallow water fishing, and really slowed the overall fishing results.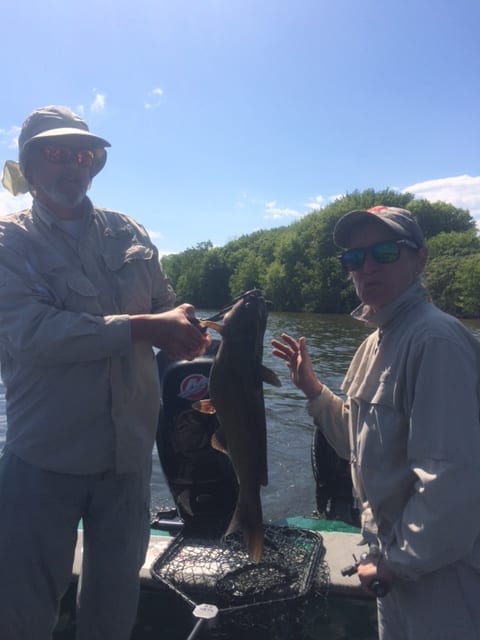 Water temperatures are 63 degrees for Lake Poygan and 64 degrees in the Wolf River.  On Lake Winnebago, Neenah registered 60 degrees, Oshkosh at 66 degrees and Fond du Lac at 65 degrees.  Weed growth is emerging in shallow water, especially in the channels and bays.  However, overall weed growth is well behind historical trends.  A touch of algae was seen in a few locations, but is extremely limited.  Bottom line, this system continues to be well behind seasonal trends.
Over the holiday weekend, many ventured onto Lake Winnebago and many came home disappointed.  The ultra-clear water has made the game fish skittish and seeking deep, quiet water areas.  The shallow water areas seemed very vacant during the day light hours, with some activity in the shallows during low light periods.
To put things into perspective, 113 teams of anglers hit the water for two tournaments on Lake Winnebago Saturday.  80 teams failed to register a single walleye over 15".  In both tournaments, registering a walleye resulted in cashing a check.  These tournaments were restricted to Lake Winnebago only, and the rivers were off limits.
On Lake Winnebago, most of the action was occurring near the mouth of the river.  This has not changed in several weeks, as fish continue to move down the Fox River.  The Oshkosh Reef was holding some mid -sized walleyes late last week.
There was considerable action in and around the Long Point reef complex, including Kalibus's Reef.  This was a mixed bag of fish, including some nice sized perch, crappies, walleyes and sheephead.  Nearly all anglers were either pitching jigs or using slip bobbers with crawlers or leeches.
We trolled the outlying area of the complex and did find walleyes staged in 10-15 feet of water.  With the clear water conditions, the walleyes have moved very deep, and we targeted fish at the bottom of the water column.  Unfortunately for us, we honed in on walleyes with lengths between 14-14 7/8 inches.  Sheephead are thick in this area also.  Interesting enough, we were catching pre-spawn white bass also.
Some of the other areas we checked included Horseshoe Reef, North Asylum, Garlic Island and Roe's Point.   In general, there are scattered walleyes just off the complexes, but nothing which would produce a limit of fish (walleye or panfish) without considerable effort.  Sheephead are everywhere, especially on the end of your line!
In Lake Winneconne, success has been coming near Clark's Point, trolling small crankbaits.  The walleyes have tended to be a little larger than their Winnebago counterparts.  This may be a sign of the walleyes migrating out of the Wolf River and recuperating in the upper lakes.  The Wolf River at New London rose slightly this week after the rain.
The white bass run is in a state of chaos.   There are white bass which are post-spawn, currently spawning and pre-spawn.  Finding white bass has been more of a challenge as anglers must seek a school which is geared at their presentation.  Fishing post spawn tactics to prespawn fish is not effective.  Anglers need to be flexible as to presentation style and location.
I personally continued to be drawn to the lower Fox River in De Pere, Wi this year.  Like the Wolf River, many of the male walleyes continue to reside in the river.  High water, adequate food and decent current flows have held the fish in the river.  With water temperatures in the high 60's, the sheephead have moved into spawn.  On one retrieve, a female sheephead had four males bumping her as we reeled her in.  The spawn is in high gear.
At the dam, white bass can be caught at an alarming rate on spinners with silver accents or small zip lures (yes I said zip lure).  Most of these white bass are on the small to average size.  Due to the white bass and sheephead activity, the walleyes have been forced into the 8-15 foot depths.  Musky fishing was slow.  Catfish were also common.
This weekend will bring several tournaments on the Winnebago system, so expect heavy volumes at the boat launches.  A full tournament listing for the Winnebago system can be found at https://www.myfishingpartner.com/winnebago-system-tournament-schedule-2017-2/
Have a great week on the water.
Email: mark@myfishingpartner.com.
Facebook:  https://www.facebook.com/myfishingpartner/
YouTube:  https://www.youtube.com/channel/UCda5_YvomIwQLzTBXJxEzaw?view_as=subscriber
Pinterest: https://www.pinterest.com/markschram33/
Instagram:  https://www.instagram.com/myfishingpartner/?hl=en and https://www.instagram.com/my_fishing_partner/?hl=en
Walleye Nets:  www.Walleyenets.com
Twitter: @fishingpartner