Bluegill Filets
3 eggs
3 tbs. pickle juice ( I prefer sweet)
3/4 stick butter
Lemon or orange juice from cut fruit
Salt, pepper to taste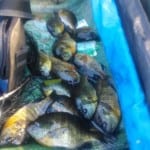 Take the bluegill filets and dip into mixed/stirred eggs.  Add egg covered filet to preheated pan, which has a layer of melted butter (cooking on medium high temperature).  Add pickle juice after filets are in the pan.
Squeeze a few drops of the lemon or orange (from fresh fruit) onto each filet, while cooking.  Add salt and pepper (or other spices) over the filets.  Cook until brown and flip.  Repeat seasoning instructions.  Cook until done; remove to a paper towel to absorb any left over butter. Serve.