Ingredients:
Bluegill fillets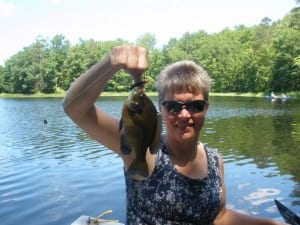 pasta of your choice (macaroni or shells works good)
1 can mushroom soup
1 large package shredded cheddar cheese
1 diced onion
peas or another veggie (asparagus is great!)
1/2 stick butter
milk
salt, pepper, paprika, parsley to taste
seasoned bread crumbs or cracker crumbs
Poach fillets in water (you can add seasonings or splash of wine or juice but not necessary). Fish is done when it turns white and can easily flake. Remove fish from broth (save for fish chowder or soup). While poaching fish, cook your favorite pasta. Add poached fish to pasta, breaking fillets into chunks. Add a can of mushroom soup, sharp cheddar cheese, diced onion, veggies, and seasonings. Mix together adding a lil bit of milk to help make the sauce. Top with seasoned bread crumbs or crushed crackers. Dot with butter. Bake at 350 for about 30 minutes or until topping is lightly browned and cheese is bubbly.
Source: Unknown